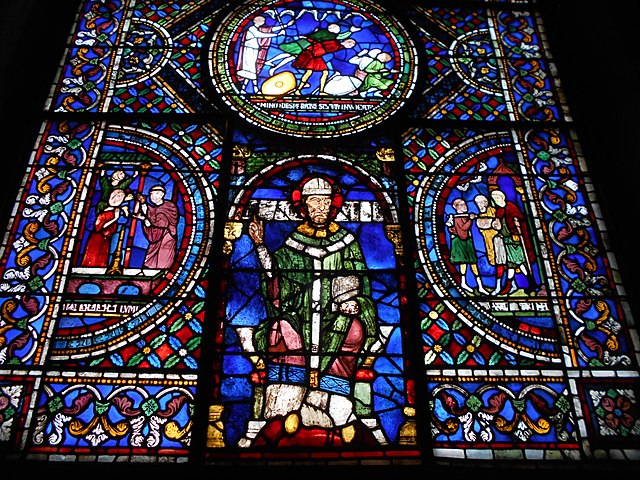 Jewel setting and cathedral construction
The use of klo stones and jewels in Gothic cathedral construction served both aesthetic and symbolic purposes. The technique of klo allowed for more light to enter the church, creating a sense of grandeur and wonder. The use of precious stones reflected the wealth and power of the Church and were used in the decoration of the pillars and walls to inspire awe and reverence in the believers. The use of light, jewels and other materials in cathedral construction also had spiritual and symbolic meanings, connecting the physical world with the spiritual world and educating the population
Photo on the top: From Canterbury Cathedral (St. Thomas), England
Since the 1370s, the use of stones framed in klo (à jour) became popular in cathedral construction. Klo is a technique that involves cutting and setting gemstones in an upward taper, often with Gothic points, which allows light to be reflected through the stone while keeping it separate from its metal base. This technique was particularly popular during the Gothic period, where the use of light and shadow was an essential aspect of the architectural design. The use of klo stones in cathedral construction not only added to the beauty of the building but also served a functional purpose by allowing more light to enter the church space.
Jewels have always had a strong association with cathedral construction, especially in the Gothic period. The use of skyward pillars, which supported the walls and the weight of the roof, allowed for taller windows and thinner walls. This was an essential aspect of Gothic architecture as it allowed for more light to enter the church space, creating a sense of grandeur and wonder. The use of precious stones like rubies, sapphires, emeralds, and gold in the decoration of the pillars and walls of the cathedrals was not only for aesthetic reasons but also served a symbolic purpose. They were used to reflect the wealth and power of the Church and to inspire a sense of awe and reverence in the believers.
As the window niches became higher and narrower, more divine light was able to flow into the large church space. This was the main purpose behind the design of Gothic cathedrals. The church windows were often set with colored glass mosaics, and the light reflected the red color of rubies, the blue of sapphires, the green of emeralds, and the yellow of gold. This created an ethereal and otherworldly atmosphere that was designed to inspire a sense of awe and reverence in the believer. The use of colored glass was also used to tell biblical stories and to educate the illiterate population.
The use of light in cathedral construction can be traced back to the 12th century, with figures like Hildegard von Bingen. She believed in the connection of everything, and the use of light in architecture was seen as a way to connect the physical world with the spiritual world. The use of light, jewels and other materials in cathedral construction was not only for aesthetic reasons, but also for spiritual and symbolic reasons. They were meant to inspire a sense of awe and reverence in the believer, to connect them with the divine, and to educate the population through the use of biblical stories depicted in the stained glass windows